PRESS RELEASE:
AWOL Adventure to Deliver Live Photography at the Grounded Events Company Brighton Trail Weekend 2022
UK space company AWOL Adventure are partnering with the Grounded Events Company (GEC), to deliver space-powered live photography at GEC's Brighton Trail Weekend, launching on 25-26th June next year.
AWOL Adventure will be working alongside Grounded Events Company CEO, Tom Naylor, to bring live photography to GEC's new trail running event, which expects to see over 4000 participants take to routes along the South Downs National Park and trails next June. The Brighton Trail Weekend consists of three unique events, with the option of Marathon, 10K and kids' distances.
AWOL will deliver a rapid upload, live photography service using space-powered technology developed over the last year in partnership with the UK Space Agency and the European Space Agency. An industry-first, the service allows for participants and their chosen supporters to receive event photos within seconds of being taken, removing the unnecessary waiting time for images after a sporting event.
Photo albums are assembled using a combination of AI image recognition, satellite communications and GPS technology, and dedicated Quality Assurance teams ensure the high speed, high accuracy and high quality of the photographs delivered to participants. With no reliance on local infrastructure, the technology can be deployed at any location worldwide.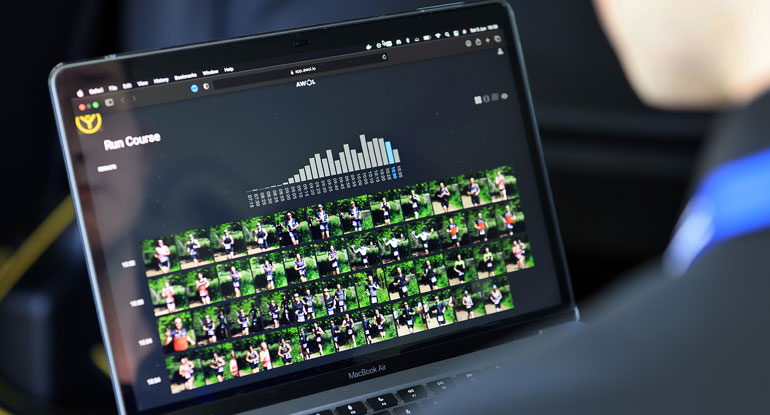 Tom Naylor, CEO of GEC and Brighton Marathon Race Director said:
"We want to use the experience and learning we have from the Brighton Marathon Weekend and apply it to trail running. The aim is to encourage people to get into the countryside, to grow in confidence and challenge themselves a bit more. To explore, seek out new places to run and diversify the people that use the South Downs.
"We also want to change goal orientation from attaining PBs, to running more regularly and finding your own goals. The climbs are the challenges, and the running in between is to be enjoyed.
"AWOL's live photography will have as much of an impact as the participant tracking apps had ten years ago. It will make the spectator element so much richer and allow friends and family to go through their own journey along with their loved ones running the event. We can use live photography to follow the runners on big screens, to tell their story, and to support and follow their progress in real time."
Greg Goodall, AWOL's Chief Commercial Officer said:
"It's awesome to be working with a client who is as forward thinking as we are when it comes to event technology and participant experience. We have been talking to Tom and Grounded Events Company for a number of years now, and have had the privilege to visit the Brighton Marathon on several occasions and witness their fresh, creative approach and impressive organisation.
"We know working with Grounded Events Company will allow us to bring a truly unique participant-focussed experience to those who take part in this new event.
"The Brighton Marathon Weekend is extraordinary in that the community support for the event is second to none, from runners to spectators, and from volunteers to local residents and businesses. We are certain the Brighton Trail Weekend will achieve the same level of comradery and positive atmosphere, and provide an event that is not only great for the organisers and participants, but also for the city and surrounding areas."
About AWOL:
Established 9 years, AWOL is a Northwest-based digital company specialising in Sports Event Technology, and is responsible for previous major innovations around Facial Recognition and rapid image availability (awol.io).
Headline clients include London Marathon Events, Human Race, British Triathlon, Castle Triathlon, Events of the North and Chester Marathon.
About GEC:
The Grounded Events Company Ltd. is responsible for producing a number of successful, mass participation sporting events.
Grounded Events conceived, launched and continue to organise Brighton Marathon, which has established itself as a premier fixture on the UK's sporting event calendar. It has grown from being just a marathon event to a full weekend, attracting over 18,000 participants to the Brighton Marathon, BM10k, BM Ride and the Mini Mile Races. The city welcomes crowds of over 125,000, who come to show the runners their support and visit the bespoke beach-based Event Village next to Madeira Drive.
Other projects include working with the U.S owners of one of the largest running series Ragnar Relay to launch the first UK road race 'Ragnar White Cliffs' in 2017 and Ragnar Trail Forest of Dean.