PRESS RELEASE:
AWOL Launch Live Event Photography Service At AJ Bell 2021 World Triathlon Series Leeds
(With comments from Jonny Brownlee, two-time Olympic Triathlon medallist, Andy Salmon, Chief Executive Officer at British Triathlon, Graham Turnock, CEO of the UK Space Agency, and age-group Participants)
The AJ Bell 2021 World Triathlon Leeds, organised by British Triathlon, was a huge success over the weekend. On the ground, it was a model of COVID-compliant elite and mass participation racing held in stunning weather in Roundhay Park, Leeds. A team from British event technology company AWOL were deployed, providing multiple live photography positions covering the remote swim, bike and run, and the stunning finish in front of Mansion House.
World-first live photos were delivered to the friends and family of participants from photographers positioned across the course just moments after being taken, involving them in the action across a highly controlled course only available to registered spectators.
The new technology was delivered via AWOL's brand-new website https://app.awol.io to opted-in participants and spectators, on behalf of British Triathlon and sponsored by Yellow Jersey cycle insurance. Photo albums were assembled using A.I. Image Recognition, satellite communications and GPS technology developed by AWOL in conjunction with the European Space Agency and UK Space Agency, with no reliance on local infrastructure demonstrating its ability to be deployed literally anywhere.
The weekend saw incredible engagement digitally: photos were viewed and shared widely, reaching a wide audience across the UK and globally many times the normal reach that event photos typically receive.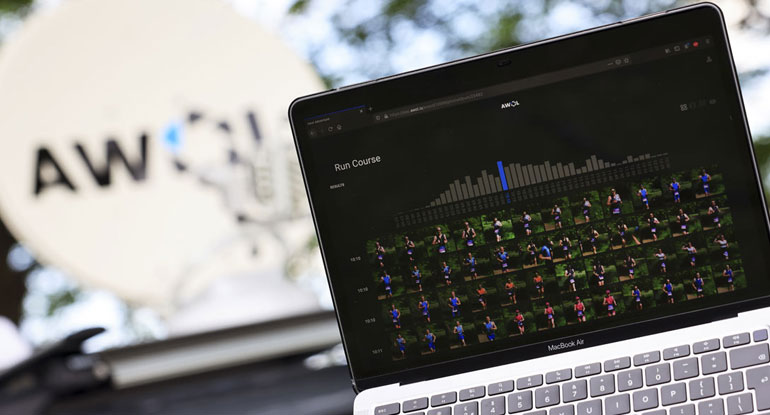 In an exclusive interview, two-time Olympic triathlon medallist Jonathan Brownlee said:
"What AWOL are doing here will encourage and support people to be more active and get involved in sport, and in particular Triathlon; it's great to see a British company leading the way worldwide with such an exciting piece of technology. Having witnessed Live Photos being delivered at the age group race this weekend, it's literally a game-changer."
"It's exciting that it's now possible to be identified anywhere at an event, even at the Swim Exit whilst wearing a wetsuit and goggles, or on the bike with an aero helmet and no visible race number. It's amazing to have seen these photos delivered live to family and friends."
After the event, Matt Brocklehurst, Chief Technical Officer at AWOL said:
"We have truly raised the bar with the launch of this technology. Over the weekend, AWOL set a new standard for customer and spectator experience with a technology that can be used anywhere on the course, completely self-sufficiently".
Prior to the event, Andy Salmon, Chief Executive Officer at British Triathlon said:
"I'm delighted to see this event return for 2021. It's going to be exciting to not only see elite triathletes and paratriathletes on the start line but also our first timers through to our seasoned athletes back enjoying our sport.
"We're thrilled that AWOL will be joining us as this new technology offers the opportunity to engage spectators and media all around the UK without the requirement for them to be physically present, and this will give a boost to participants. We're excited to invite AWOL to push the boundaries of what's possible in sports, and it's great to see the UK tech industry leading the way in this."
Graham Turnock, CEO of the UK Space Agency, said:
"Space is a glue that joins together many of the practical parts of our everyday lives, from how we bank to our food delivery. But it also supports technologies like sports photography that make life more fun.
"AWOL's concept will help revolutionise the quality and the speed of sports photography and I am certain anyone who has taken part in these kinds of events will look forward to using this service."
Following the event, participants Stephan and Chloe Couture (father and disabled daughter pair) said:
"My daughter and I have completed hundreds of events with me pushing Chloe in a wheelchair, and I've NEVER seen such an effective way to engage fundraisers, and inform beneficiaries about what we are doing for them. It's the fact they can physically SEE the blood sweat and tears that go into completing these challenges, that makes them really care".
Age Group participant feedback from the weekend:
Lisa Singleton: "I was surprised how easy it was to set up the facial recognition bit pre-race and the photos that have come out of me were fantastic."
Stuart Nevin "You made me look like a film star! The quality and number of pictures was amazing. Straight after the race I checked my phone and my photos were already waiting."
Rachel Ward (Daughter of Kev Ward, participant): "Being able to watch my dad race was amazing. I felt part of the day even though I wasn't there with him."
Kerry Anne Barnett: "Super impressed with the service. I even forgot to register a selfie beforehand, but AWOL were very quick to respond."