ARTICLE:
Meet Jamie (AWOL's Software & Research Manager)
AWOL's rapid upload, AI-driven live photography service is an industry first. It allows for participants (as well as their supporting family and friends) to receive their event photos within seconds of being taken.
However, receiving your photos in real time is only beneficial if the photos themselves are of the highest possible quality. In order to ensure this, AWOL have a Quality Assurance team whose job it is to monitor the images coming in and make sure all are of the highest standard. Heading up this team on race day is Jamie, AWOL's Software & Research Manager.
Jamie joined the AWOL team over three years ago, having originally started as an intern back in 2018. His role on race day is to check the photos as they come through live on the website, and to liase with the photographers to ensure all technical queries are dealt with.
Jamie explained,
"I monitor the photos on a feed as they come live. This ensures that each photographer can be managed from a central location (either remote or onsite) to ensure that each participant gets the highest quality photo that they want and deserve".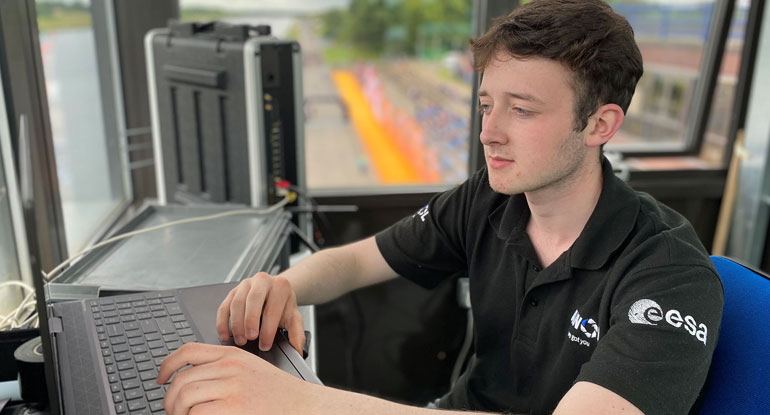 Ever passionate about the live photography service and the benefits it brings to the mass participation sports event industry, Jamie went on to say,
"A photo is a memory you get to hold in physical form. Live photography at MPS events means that event participants can view their memories any time, even as soon as they are taken. Live photography opens up more sophisticated social discussions between participants and friends (or family), and can be even more immersive through the use of 'watch pages', where photos are uploaded and displayed in real-time and in order, as the photos are taken. This allows for people who can't physically be at the event to feel as if they watched the participant throughout the entire course, making them feel as if they were truly there.
"Immersive, meaningful photos are everything to the participant and that's why I believe live photography is one of the most essential services to be available at MPS events".
Being part of such forward-thinking company has provided Jamie the opportunity to be an integral part of a pioneering, space agency-funded project at an early point in his career. Always positive and optimistic, Jamie is a great addition to the team and it seems the feeling is mutual. He said,
"I love working at AWOL. The best thing about it has to be the relentless determination and can-do attitude that all staff share. If AWOL want to do something, we will do it. Anything is possible. It provides an excellent place to grow & develop, while also being exciting for myself each day".